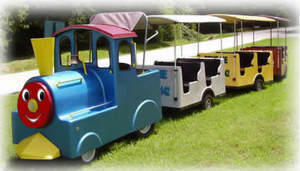 Trackless Train rental Houston - GAS
Rent the Trackless Train for Unforgettable Events - Book Now!
Looking to add a touch of magic to your upcoming event? Look no further! Events by ABA offers the finest Trackless Train rental service that will leave your guests amazed and create memories to cherish. Whether you're planning a school fair, a company picnic, a church festival, or any other special occasion, our Trackless Train is the perfect choice for a captivating experience.
Our Trackless Train rental service is designed to accommodate up to 18 small children or 12 adults, ensuring a delightful adventure for guests of all ages. With its versatile and maneuverable design, this train glides effortlessly on various surfaces, be it asphalt, concrete, or designated routes within your event venue.
Renting our Trackless Train is a hassle-free experience. Our professional team takes care of all the logistics, ensuring seamless delivery, setup, and operation. We understand the importance of a stress-free event, and our dedicated staff is committed to providing exceptional service, allowing you to focus on enjoying your event to the fullest.
The Trackless Train is powered by a reliable gas engine, delivering a smooth ride for your guests' comfort. Its open-air design allows passengers to embrace the surroundings, enhancing the sense of wonder and creating an immersive experience. This enchanting train brings joy and excitement, making it a centerpiece attraction at any event.
Events by ABA takes pride in offering top-notch entertainment options for your event. Our Trackless Train rental service is no exception. Whether you're organizing a corporate function, a community event, or a private celebration, our goal is to exceed your expectations and provide an unforgettable experience for your guests.
Don't miss out on the opportunity to rent our Trackless Train for your next event! Book now to secure this enchanting attraction and ensure your guests embark on a memorable adventure. Get ready for smiles, laughter, and a magical atmosphere that will make your event truly extraordinary